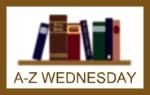 A-Z Wednesday
is hosted by Vicky of
Reading at the Beach
Welcome to A-Z Wednesday!!
To join, here's all you have to do:
Go to your stack of books and find one whose title starts with the letter of the week.
Post:
1~ a photo of the book
2~ title and synopsis
3~ link (amazon, barnes and noble etc.)

Be sure to visit other participants to see what book they have posted and leave them a comment.(We all love comments, don't we?) Who knows? You may find your next "favorite" book.
This Week's Letter is "K"

The Kingdom Hall No More - by Daniel Chamberlayne
Freshman author Daniel Chamberlayne discuss his 16 years experiences growing up as a Jehovah Witness and attending the Kingdom Hall in Hollis, Queens, New York. Daniel discusses all his activities in the kingdom hall and what led up to getting baptized with no choice of his own and what led up to getting "disfellowshipped' and "shunned" from the organization and how Daniel is living now since his departure of the Jehovah Witnesses in 1990.
Daniel is a fellow New Yorker. I 'met' him on Goodreads. He was pimping his book. I bought a copy and found it fascinating. To learn the inner workings of the religion from the point of view of someone who has been disfellowshipped really gave me something to think about.
Although I was fascinated by the content, I will say that:
1) This is a self-published (self edited) book therefore;
2) It is in need of copy editing (spelling, grammar and readability). In the first few chapters I found many spelling and grammatical errors, and the language was freshman and used an inordinate amount of regional slang.