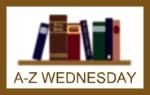 A-Z Wednesday
is hosted by Vicky of
Reading at the Beach
Welcome to A-Z Wednesday!!
To join, here's all you have to do:
Go to your stack of books and find one whose title starts with the letter of the week.
Post:
1~ a photo of the book
2~ title and synopsis
3~ link (amazon, barnes and noble etc.)

Be sure to visit other participants to see what book they have posted and leave them a comment.(We all love comments, don't we?) Who knows? You may find your next "favorite" book.
This Week's Letter is "J"
FICTION ALERT!!!!
My first one since starting this meme.

Jemima J by Jane Green

384 pages
ISBN-10: 0767905180
"If I had one wish in all the world, I wouldn't wish to win the lottery. Nor would I wish for true love. No, if I had one wish I would wish to have a model's figure, probably Cindy Crawford's, and I would extend that wish into having and keeping a model's figure, no matter what I eat."
Jemima Jones is overweight. About 98 pounds overweight. Treated like a maid by her thin social-climbing roommates, and lorded over by the beautiful Geraldine (less talented but better paid) at the Kilburn Herald, Jemima's only consolation is food. Add to this her passion for her charming, sexy, and unobtainable colleague Ben, and Jemima knows her life is in need of a serious change. When she meets Brad, an eligible California hunk, over the Internet, Jemima has the perfect opportunity to reinvent herself--as JJ, the slim, beautiful, gym-obsessed glamour girl of her dreams. But when her long-distance Romeo demands that they meet, she must conquer her food addiction to become the bone-thin model of her e-mails-- no small feat.
4.5 / 5 stars for me.
*NOTE* If I don't leave a comment in your blog, I'm not ignoring you. I cannot leave comments in blogger if there is no pop out window or seperate page. My job blocks the feature if the comments are embedded. I try to log in when I get home to get everyone, but sometimes I can't. I appreciate all the comments. Thanks for visiting.