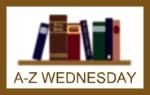 A-Z Wednesday
is hosted by Vicky of
Reading at the Beach

Welcome to A-Z Wednesday!!
To join, here's all you have to do:
Go to your stack of books and find one whose title starts with the letter of the week.
Post:
1~ a photo of the book
2~ title and synopsis
3~ link (amazon, barnes and noble etc.)

Be sure to visit other participants to see what book they have posted and leave them a comment.(We all love comments, don't we?)Who knows? You may find your next "favorite" book.

This Week's Letter is: F


Fall Down Laughing: How Squiggy Caught Multiple Sclerosis and Didn't Tell Nobody by David Lander (aka Squiggy)
In the summer of 1999, David Lander revealed publicly that he suffers from multiple sclerosis-a secret he'd kept for fifteen years even while living and working in Hollywood's celebrity fishbowl. Diagnosed with the illness after filming the last episode of Laverne and Shirley, Lander continued to develop his film and television career while hiding his illness. His success was an astonishing testament to his physical and emotional strength and his determination to prove that those with M.S. can still enjoy fulfilling and challenging lives.
Fall Down, Laughing is the humorous and poignant story of Lander's courageous struggle with multiple sclerosis. Over the years, Lander tried everything to improve his condition: exercise programs, alternative medicine, support groups, the latest crop of designer drugs. Weaving his experiences against a backdrop of entertaining celebrity anecdotes, Lander offers a message of affirmation that will provide information and hope to millions of M.S. sufferers, their friends and caregivers.
This is one of my all time favorite books. Sad and hysterical at the same time.