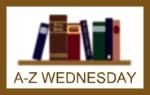 A-Z Wednesday
is hosted by Vicky of
Reading at the Beach
Welcome to A-Z Wednesday!!
To join, here's all you have to do:
Go to your stack of books and find one whose title starts with the letter of the week.
Post:
1~ a photo of the book
2~ title and synopsis
3~ link (amazon, barnes and noble etc.)
Be sure to visit other participants to see what book they have posted and leave them a comment.(We all love comments, don't we?)Who knows? You may find your next "favorite" book.
This Week's Letter is: E
My choice from my read list is
Edgar Cayce: An American Prophet
by Sidney Kirkpatrick
Synopsis
A New York Times bestselling author presents the definitive biography of the renowned psychic, religious seeker, and father of alternative medicine.
The New York Times once ran a front-page story celebrating him as "the most fascinating man in America." Although educated only through the eighth-grade, he was called upon by world leaders (such as Woodrow Wilson) and prominent scientists (such as Thomas Edison) to advise them on their most pressing issues. Treasure hunters, stock brokers, and oil-men made millions of dollars from his talents. And, in a hypnotic trance so deep he was twice pronounced clinically dead, he diagnosed illnesses with astonishing accuracy and prescribed medical treatments that were years ahead of their time, curing hundreds of people with intractable diseases. Who was this
man?
Known as the "sleeping prophet," Edgar Cayce was a simple man from rural Kentucky who went on to lead an extraordinarily eventful life. As a child, he began having visions beyond waking reality, and though he had no idea where his powers of perception came from, through years of hardship and personal struggle, he developed his gifts to help others in need. And even as he became famous for his sensational achievements, and fell in with some of the most influential people of his day, Cayce never courted the limelight, and he lived much of his life in poverty. His greatest legacy may be the spiritual wisdom he brought from the "other side."
Now, in this definitive biography, Sidney Kirkpatrick, the only researcher to have been granted unrestricted access to all of Cayce's letters and papers, is the first to fully crack the code of Cayce's trance readings and reveal how they were used by such prominent individuals as Harry Houdini, George Gershwin, Nikola Tesla, Nelson Rockefeller, and Marilyn Monroe. Kirkpatrick has written a mesmerizing, revelatory account of this legendary figure, a humble man with a radiant gift, whose life and message continue to inspire legions of followers.
I devoured this book. It was so interesting. I knew only bits and pieces about Cayce's life, but this book gave real insight into how his gift worked and how he used it to help others. I've always been a Cayce fan, after reading this, I am even more so.