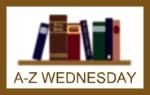 A-Z Wednesday
is hosted by Vicky of
Reading at the Beach
Welcome to A-Z Wednesday!!
To join, here's all you have to do:
Go to your stack of books and find one whose title starts with the letter of the week.
Post:
1~ a photo of the book
2~ title and synopsis
3~ link (amazon, barnes and noble etc.)

Be sure to visit other participants to see what book they have posted and leave them a comment.(We all love comments, don't we?) Who knows? You may find your next "favorite" book.
This Week's Letter is "N"



'Night Mother by Marsha Norman

A daughter, Jessie, and her mother, Thelma (referred to as "Mama" in the play). The play opens with Jessie calmly telling Mama that by morning she'll be dead, as she plans to commit suicide that very evening (she makes this revelation all while nonchalantly organizing household items and preparing to do her mother's nails). The subsequent dialogue between Jessie and Mama slowly reveals her reasons for her decision and her life with Mama and how thoroughly she has planned her own death, culminating in a disturbing yet unavoidable climax.
I don't often read plays, but this was suggested by a friend. I loved it. Very touching. A quick and sad read. I haven't seen the play or movie starring Sissy Spacek. The movie is very hard to find, but it seems to be on youtube. Go figure.