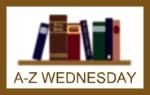 A-Z Wednesday
is hosted by Vicky of
Reading at the Beach
Welcome to A-Z Wednesday!!
To join, here's all you have to do:
Go to your stack of books and find one whose title starts with the letter of the week.
Post:
1~ a photo of the book
2~ title and synopsis
3~ link (amazon, barnes and noble etc.)

Be sure to visit other participants to see what book they have posted and leave them a comment.(We all love comments, don't we?) Who knows? You may find your next "favorite" book.
This Week's Letter is "M"
Madame Bovary by Gustave Flaubert
For this novel of French bourgeois life in all its inglorious banality, Flaubert invented a paradoxically original and wholly modern style. His heroine, Emma Bovary, a bored provincial housewife, abandons her husband to pursue the libertine Rodolphe in a desperate love affair. A succès de scandale in its day, Madame Bovary remains a powerful and arousing novel.
AWESOME. I listened to this on an audiobook. I was pleasantly surprised that it was good and that I enjoyed it. I do often read/listen to Classic novels, but when I read the synopsis I thought "sounds pretty boring", but it wasn't. It was suspensful, surprising and just good story telling.